8 Rungs Of Accountability
4 Rungs of Unaccountability
Blame others
Unconscious unaware
"I Can't"
"Wait and Hope"
Victims are people who don't know there is a problem, or who know there is a problem and blame someone else, or they say there is nothing they can do about it or they say they will wait it out and hopes it gets better.
4 Rungs of Accountability -- The Powerful
Making it happen
owning the responsibility for making it happen whether people help you or not
finding a solution
Acknowledge reality
Acknowledge problem, find the solution, take responsibility for making it happen whether you are helped or not and then you make it happen, you are accountable and the most powerful people do this.
This came about in parable form by Bruce Gordon telling a story about his son coming home from school and telling his father that he, the son, forgot about a project that is due the next day.
That's Bruce Gordon, head of the NAACP
CLICK HERE TO SEE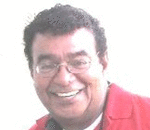 Posted By: William Lambert
Wednesday, January 14th 2009 at 10:27PM
You can also
click here to view all posts by this author...