Thanksgiving season is always a really good time for me to slow down for a few weeks and take stock of the prior year, dream for the upcoming year and plan to MAKE IT HAPPEN!
Personally, I like to finish the process by building a collage with my munchkins and hubby in the month December. My goal is to post it in my office in time for the New Year to "see" what the next year will "look like". I post it up high on my wall to remain focused, prayerful and excited about each day's "pregnant potential".
Admittedly, it enables me to really get a lot done in my 40 year lifetime. I have been doing this exercise for over 20 years. Rarely, do I let a year go by that I am not rejoicing to GOD for a ton of blessings bestowed upon me.
So it is about this time that I allow my mind to freely dream and imagine a "perfect" world. Basically, this year I am praying that I can connect with MORE LIKE MINDED SOULS.
I don't even care what color, race or ethnic origin that these souls are "gift wrapped from God"...I just want PEACEFUL RELATIONSHIPS WITH INSPIRED, PUMPED UP, READY TO MAKE THINGS HAPPEN, GOTTA GET IT DONE, NOT AFRAID OF FAILURE, NO TIME FOR NAYSAYERS, CAN'T RECALL NAMES OF NEGATIVE ENERGY PEOPLE.
So...That is my NEW PRAYER for 2010...All my brothers and sisters will be able to find a way to FLY HIGH ABOVE!
WE CAN DO THIS!
http://hbcukids.com/blog3/2008/09/what_are...
www.JoanGosier.com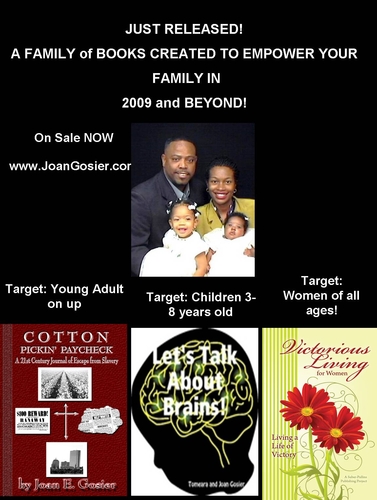 Posted By: Joan E. Gosier HBCUkidz.com
Friday, November 13th 2009 at 12:14PM
You can also
click here to view all posts by this author...