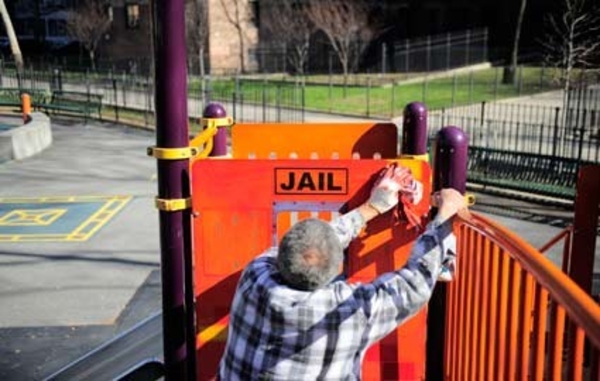 At a city housing project in Brooklyn, N.Y., an orange jungle gym emblazoned with the word "Jail," along with a cell door and prison bars, has ignited outrage among neighborhood residents, The New York Times reports.
The jungle gym, which was erected in March 2004 in the historically black community of Bedford-Stuyvesant, has not elicited any complaints until this week, Sheila Stainback, a New York Housing Authority spokeswoman, tells The Times.
However, a Housing Authority grounds worker who declined to give her name tells the newspaper her mother was so angry about the play set that she covered the word "Jail" with spray paint two years ago. It is unclear how the word was restored, The Times reports.
"The fact is that this community along with six others in New York City makes up the majority of the prison population in New York State," says Lumumba Bandele, a lecturer in black history at the City University of New York, who lives near the playground. "And to have this here under the auspices of NYCHA is absolutely insulting."
The Web site blackandbrownnews.com posted a photo of the jungle gym and Bandele's wife, Monifa, wrote an accompanying article.
On March 24, Housing Authority workers painted over the word "Jail" and began scouring off the fake bars, which appeared stenciled into the play set, with steel wool and paint remover.
Good Grief!
I noticed from the article that it took several years for people to become outraged. Again, Good Grief!
Good Greif because it took so long to become outraged, not for those that put it up. ( they're the ones who are aware ) A tactic perceived is not one for many.
Lack of education, ( ignorance ), is the greatest killer!
Oh, ...I get it! It's just harmless make believe play!
Visit:
www.goddessesblessinggoddesses.org
Posted By: Min.Dr.LaDonna Blaylock D.D.
Thursday, March 25th 2010 at 4:46PM
You can also
click here to view all posts by this author...